Reviews
Clash of Eagles Series
Book One – CLASH OF EAGLES
"Just when it seems there is nothing new in [alternate] history comes this debut." – Library Journal, starred review.

"Smale debuts with an intriguingly original alternate history… grounded in solid research into Roman history and pre-Columbian native society… The author's best work comes with descriptions and characters, both of legion life and Cahokian society." – Kirkus Review

"Authoritatively researched, compellingly told, and with pleasing echoes of L. Sprague de Camp, CLASH OF EAGLES is a modern masterpiece of what-if speculation." – Stephen Baxter, Philip K. Dick Award-winning author of The Time Ships.

"In Smale's writing, speculative fiction has been dealt a winning hand. Part historian, part anthropologist, part scientist, Smale is a renaissance man with a storyteller's gift for letting tireless research inform the narrative without overwhelming it. Smale entertains, educates and enraptures." – Myke Cole, award-winning author of the Shadow-Ops series.

"CLASHOF EAGLES is epic in its sweep, exciting in its narrative, and eyeball-kick sharp in its details." – Nancy Kress, Nebula and Hugo Award-winning author of Beggars in Spain.

"Alan Smale has done wonderful work with the world-building in CLASH OF EAGLES, dropping the sole Roman survivor of a massacre into the complex civilization of the Cahokian Native Americans in the thirteenth century. Yet what follows is more than a standard clash of cultures yarn, for there are other forces at play in this alternate North America, and Marcellinus knows his imperial masters will send more legions to replace his lost men. Can the determination and ingenuity of one man change the fate of a continent? I'm eager to find out." – Harry Turtledove, New York Times bestselling author of How Few Remain.

"My favorite kind of alternate history: epic, bloody, and hugely imaginative." – John Birmingham, author of Without Warning.

"Alan Smale is one of those Renaissance men who make the rest of us look positively lazy… Smale's take on this premise is fresh and intriguing. The worldbuilding is stunning: in terms of a detailed alternate world imagined in depth, I was reminded of Harry Harrison's classic Eden trilogy…. Visit Smale's world. You won't regret it." – Don Sakers, Analog Science Fiction and Fact

"Smale wrings every delightful ounce of fun and edification out of his chosen thesis… he proves himself a dab hand at conjuring up alternate cultures, rousing action scenes, and the ethical quandaries besetting all imperial ventures. When Smale is finished, we will have a landmark work." – Paul Di Filippo, Asimov's Science Fiction

"This was a very entertaining story and the characters were well-drawn, coming alive with the author's intent. I appreciated the author's efforts to build a world based on archaeological findings consistent with the time, while not letting that interfere with a good story" – Catherine Book, The Nameless Zine

"[Alan Smale] breathes life into the New World civilizations and offers up a compelling view of what might have happened had these two continents collided… I found the New World of 1218 AD fascinating. I look forward to the next installment." – Editor's Choice, Historical Novels Review

"Careful characterization, clever extrapolation, and grand battles distinguish this novel honoring patriotism and camaraderie." – World Magazine

"A must-read for every historical fiction/alternate history fan." – The Book Plank

"Smale's writing is masterful… A damned good read." – Theo Taylor

"CLASH OF EAGLES, the first book of Alan Smale's trilogy, introduced the series with a lightning bolt. Bracketed between two breathtaking and meticulously strategized battles is a sensitive evocation of a lost culture, an act of literary archaeology like no other I've read. My advice is to get in on the ground floor now!" – James Patrick Kelly, Nebula Award-winning author of Burn


Book Two – EAGLE IN EXILE
"[EAGLE IN EXILE] has the pace and scope of a Michener or Uris epic… Smale's action scenes slash across page after page, intense and bloody… Grab your dagger and sword, for the battle continues." – Kirkus Reviews, starred review

"The author has done prodigious work into Native American lore and Roman military history to produce this novel, which is filled with intelligent extrapolations of what a 13 th century Roman Imperium might be like." – Publishers Weekly Book Review

"Alan Smale presents a detailed, fully realized alternate world with the reality of [books such as] Anne McCaffrey's Pern or Allen Steele's Coyote. Smale's Cahokia isn't just a place you read about, it's a place you feel like you've visited, a place you can imagine yourself living." – Don Sakers, Analog Science Fiction and Fact

"Warfare, political conflict, family strife – these are all presented in an epic scope where any decision or wrong move can forever change society." – Tech Times

"Thoroughly believable… Marcellinus is a complicated man, a hero we can all get behind." – Historical Novels Review

"The plotting is superb and the palette of characters captivating… I am anticipating the next book even more than I did this one." – Catherine Book, The Nameless Zine


Book Three – Eagle and Empire
"Smale's hard-hitting and satisfying conclusion will be a must for his readers, as the trilogy will be for any fan of alternate history" – Publishers Weekly Starred Review

"The pace is breathless and the action relentless, and Smale's descriptions of battles, tactics, and weapons are informed… A satisfying culmination to the adventures of a Roman warrior in the New World." – Kirkus Review

"[Eagle and Empire] had awesome worldbuilding, worthy and interesting characters, and a great plot… Altogether, a very satisfying journey." – Nameless Zine

"Alternate history at its best… Smale delivers in spades… The best of the trilogy. His ability to maintain a large, highly-developed cast of characters is remarkable… Highly recommended." – Historical Novels Review


Praise for the Wandering Warriors collection
Title "The Wandering Warriors"

"A rollicking trio of time travel tales that combine rowdy historical characters and lively sports scenes… the tales are united in their whimsy and grit, making this a rousing series of adventures." – Publisher's Weekly
"Wilber and Smale (are) two literary tricksters who present for your reading pleasure a fantastical romp featuring two cultures nobody but Rick and Alan had ever thought to let clash: barnstorming baseball players and Imperial Romans. You will believe in doubleheaders in the Coliseum. You will marvel at gladiators flailing at curveballs. And you will be tickled by the historical celebrities who take part in America's… um… Rome's Pasttime. Fun is hereby decreed." – James Patrick Kelly, winner of the Hugo, Nebula, and Locus Awards
Short Fiction Reviews
"Kitty Hawk" in Asimov's Science Fiction, March/April 2017
Reading copy available at Kitty Hawk PDF
For "Black Gate", Michael Penkas says: ""Kitty Hawk" by Alan Smale is my favorite story of the issue."

And in "Tangent Online", Kevin P. Hallett says: "Katherine Wright visits her brother Orville at Kitty Hawk in this alternative history novelette. Their elder brother, Wilbur, has recently died in a glider accident... This was an interesting alternative history story that mixed in some sense of how difficult it was to conquer powered flight. The author developed the characters nicely and the sub­plots ensured the story passed quickly. It was an enjoyable tale to read."

Chuck Davis, historical aviation expert, says: "Yesterday, I picked the latest issue of Asimov's Science Fiction, exclusively for the long-awaited story "Kitty Hawk", by one of my favorite authors, Alan Smale... He captured the thrill and grandeur of flight. That exhilarating moment when you first break the ground and soar into the sky. The tension and apprehension that accompanies your first solo landing. It was like the reader was there in 1903 at Kill Devil Hills. I would recommend this to any fans of alternate history (so very plausible, this story), the Wright Brothers and early aviation history. Alan really did his homework and crafted a superb tale of flight."
"English Wildlife" in Asimov's Science Fiction, October/November 2015
In Tangent Online, Colleen Chen says: ""English Wildlife" features a strong female character—one who is stronger in some ways than the man who loves her—and a man with obvious flaws who tries in his way to prove his love. The story bears a fascinating and complex mix of history, folklore, spirituality, and the psychology of human relationships… the tension was drawn out so effectively that I read faster than I should have. I enjoyed the setting as well as the growth of the characters before a backdrop of a strange and fixed annual cultural tradition."
"The Mongolian Book of the Dead" in Asimov's Science Fiction, Oct/Nov 2012
Reading copy available at Mongolian Book of the Dead PDF

In Tangent Online, Barbara Melville says: "Alan Smale kicks off the issue and stands head and shoulders above the rest. Set during the Chinese invasion of Mongolia, the rather ordinary John Tanner is kidnapped and taken to a shaman, where he learns he's not as ordinary as he thought. This novella operates on interplays, such as the past versus the future and the ordinary versus the special. These are woven into the nrarrative through rich world building and characterisation, making for an immersive reading experience."

Also in Tangent Online, Louis West says: "The Mongolian Book of the Dead is fast-paced, the action well crafted and relentless. The setting is rich in detail about Mongolian geography, culture and history, while the characters are complex with layers of conflicting emotions. A definite read."
"A Clash of Eagles" in Panverse Two, edited by Dario Ciriello, an all-original novella anthology now available at Amazon.com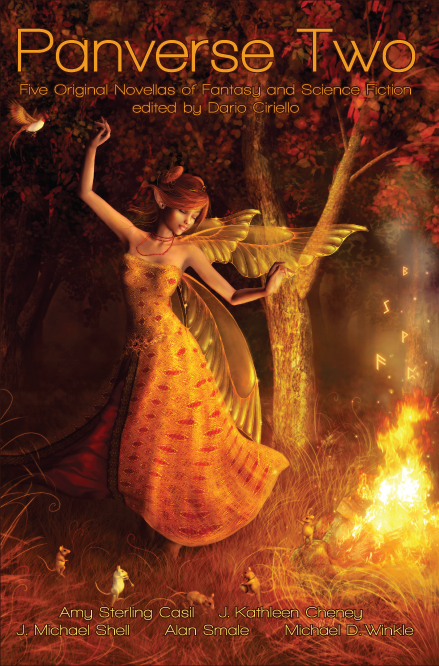 In Locus, November 2010, Gardner Dozois says: "The strongest novella here, by a decent margin, is an ingenious and fast-moving Alternate History story by Alan Smale, "A Clash of Eagles", in which the author has a lot of fun playing with the idea of Roman Legions fighting American Indians, in a world where the New World was discovered by Romans instead of Norsemen... Smale does a good job of depicting the ruthlessness and almost inhuman discipline of the Legions, even as they come to realize that they have bitten off more than they can chew this time, and there's enough bloodshed, internal politicking and cross-cultural contrasts here to make quite an entertaining read."

In Tangent Online (10/25/2010), Jo-Anne Odell says: "This is a well-structured story, with clean, sophisticated prose. Smale weaves fictional elements with historic detail to give his tale the air of realism... The characters are well-formed, in an environment rich with detail."
"Delusion's Song", in Panverse One, an all-original novella anthology available at Amazon.com (in paperback or Kindle editions) or direct from Panverse Publishing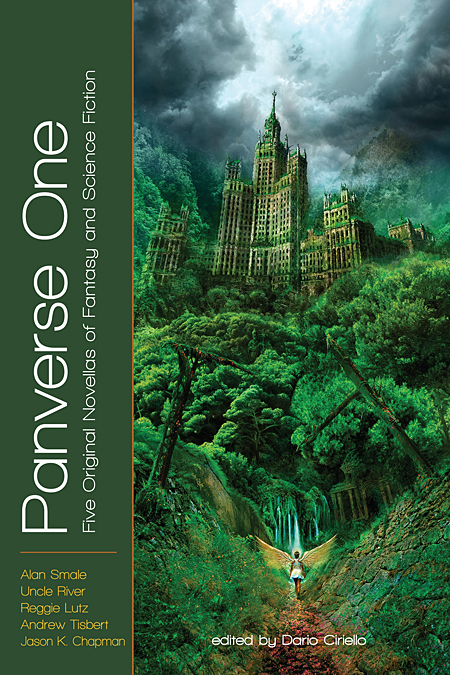 In Locus, Feb 2010, Dozois also says: "The best story here is probably Delusion's Song by Alan Smale, an atmospheric fantasy centering on a strange space-time disconinuity that opens up around Emily Bronte of Wuthering Heights fame, trapping her and her dysfunctional family and the entire village of Haworth, Yorkshire in an ever-growing expanse of moorland."

Paul di Filippo, in "Best Speculative Fiction of 2009", says: "Combine the lives of the famous Bronte sisters... with Jerome Bixby's creepy tale "It's a Good Life!", then add a dash of Philip Jose Farmer, and you might come up with something resembling Alan Smale's "Delusion's Song"... Smale works cleverly in a manner akin to that of Rhys Hughes, and succeeds in building an odd landscape that mirrors our world in useful and entertaining ways."

Tan also says: "Particularly memorable is "Delusion's Song" by Alan Smale. This is actually the longest piece in the book but in Smale's hands, the story doesn't feel dragging. The key to this is the scene breaks as Smale writes in short bursts. His characterization is also spot on, especially the way the female characters rise to prominence. In certain respects, it reminds me of the award-winning story "Pride and Prometheus", not just because of the genre mashing, but in terms of the quality of the writing. There's a lot going for "Delusion's Song", from its metafictional elements to the eerie atmosphere that it develops."

Tangent Online says:, "In many ways, "Delusion's Song" is an example of what writing is all about: the cannibalization of the works created by the great writers who came before us, and the merger of real people and fictional worlds. Readers of classic English literature will appreciate the historical and literary references that form the backbone of this powerful and thought-provoking tale. It is a heavy story, and it will weigh upon the mind long after its tale is told. "Delusion's Song" is one of the strongest stories in Panverse One."
"Fossil Fuels:, in Realms of Fantasy, February 2009 issue - story now ONLINE! (on the Web or in PDF format)
The Internet Review of Science Fiction says: "Rosalind, an eternally reincarnated archetype, descends into a coal mine to once again search out and kill her eternal adversary... I am reminded a bit of Holdstock's Mythago Wood series, with its eternally recurring figures, except that Rosalind and Jack are quite a bit more human. But the strongest part of this piece is the setting of the mine - the darkness, the oppressive sense of weight overhead."
"Quartet, with Mermaids", online at Abyss and Apex Issue 25: 1st Quarter 2008
Locus says: "The first 2008 issue of Abyss and Apex is a good one: two particularly sharp-edged pieces work best... Alan Smale's "Quartet, with Mermaids" is an only too believable treatment, from multiple viewpoints, of the likely end results of finding a real group of plausible mermaids."
"A Trade in Serpents", in Realms of Fantasy, August 2007 issue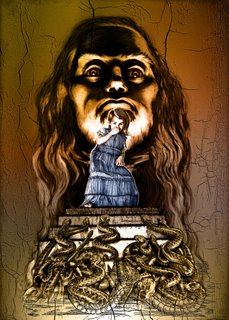 Locus says: "August's Realms of Fantasy is dominated by a quirky and historically impertinent counterfactual by Alan Smale... "A Trade in Serpents" draws on certain rhetorical ramblings that preceded the American Revolutionary War - Benjamin Franklin's famous sentiment that if Britain wanted to export convicts to the Colonies, it should import rattlesnakes in return - to work mischief with the past... soon, dreadfully big and purposeful rattlers are infesting the streets of London... Smale does a fine job of picking out [the inevitability of America's separation from the Empire] amidst the surface details of 18th-century life and thought, and his psychoanalysis of Franklin is intelligent and amusing."

Tangent Online says: "Stir it all together with great care and you have a well-crafted suspenseful adventure, definitely worth reading."